Médiation. Un nouveau service public aux entreprises
Alongside commercial courts and in an economic and financial crisis context, the French State fosters and supports the integration of mediation between firms and their economic partners. Three types of organizations resulted in Mediation between firms and banks (Médiation du crédit), Mediation between firms (Médiation Inter-entreprises) and Mediation between firms and public procurement (Médiation des Marchés publics). First we ask: what is the importance of this recent phenomenon and how does it change the way of doing business? Then these three types of mediation are described, changes in relations between these economic partners are underlined and answers about the sustainability of this State's mission are suggested.
En marge des tribunaux de commerce et dans un contexte de crise financière et économique, l'Etat a pris en charge l'intégration de la médiation dans les relations des entreprises avec les banques, avec les autres entreprises et avec l'Etat par le biais de la Médiation du crédit, la Médiation Inter-entreprises et la Médiation des Marchés publics. Cet article s'interroge sur l'importance de ce phénomène et les changements de culture dans le monde des affaires. Trois types de médiations sont présentés ici, il en est déduit leurs apports en termes de changements dans les relations entre les partenaires économiques et des réponses sont proposées sur la durabilité de cette prise en charge publique.
Fichier principal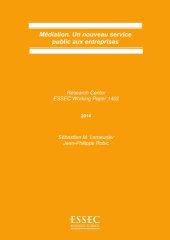 WP1402.pdf (708.57 Ko)
Télécharger le fichier
Origin : Publisher files allowed on an open archive