Assurance maladie en Suisse : l'assurance supplémentaire nuit-elle à la concurrence sur l'assurance de base ?
Many countries have introduced competition in health insurance markets. Managed competition settings have been implemented in order to avoid risk selection problems. In Germany, the Netherlands, Switzerland and Israel citizens can choose between different providers for basic coverage. In this article, we focus on the specific case of Switzerland which implemented managed competition in basic health insurance markets in 1996. We study to what extent consumer choice for one's basic health plan may interact with the decision to subscribe to supplementary insurance. The organization of social health insurance in France is currently very different from the Swiss system. However the question of regulating complementary health care insurance markets in France may be discussed in the middle/long run using the Swiss model. In Switzerland, competition in basic health insurance markets has not been effective so far. There is no evidence of premium convergence within cantons. Consumers have been reluctant to switch to less expensive funds. We investigate one possible barrier to switching behavior, namely the influence of supplementary insurance. We show that low switching rates are the result of the existence of two health insurance markets which are regulated differently: the basic health insurance market where risk selection is prohibited and the supplementary health insurance market where risk selection practices are allowed. We show that holding a supplementary contract reduces the probability of switching basic insurance provider for those with poor self-assessed health but has no effect on the switching behavior of enrollees in good/very good health. The efficient management of competition in the basic insurance market may suffer from a lack of adequate regulation in the supplementary market.
De nombreux pays ont introduit des mécanismes concurrentiels en assurance maladie, tout en instaurant une régulation pour éviter la sélection des risques et garantir une solidarité entre malades et bien portants. Le modèle de la " concurrence régulée " est ainsi appliqué pour l'assurance maladie de base en Suisse, aux Pays-Bas, en Allemagne, en Israël. Il inspire la réforme de l'assurance maladie aux Etats-Unis. Pour analyser le fonctionnement d'un tel système, on considère le cas de la Suisse, en s'intéressant aux interférences potentielles entre le marché des assurances supplémentaires et la concurrence sur le marché de l'assurance de base. L'organisation actuelle de l'assurance maladie en France diffère de celle du système Suisse. Mais la question d'une régulation du marché des assurances complémentaires pourrait être posée à terme. Douze ans après l'introduction de la concurrence régulée, les résultats observés en Suisse sont décevants. Alors que pour un même contrat les écarts de primes constatés entre les compagnies d'assurance peuvent être très importants, la proportion d'assurés qui changent de caisse reste faible. Tout se passe comme si les assurés ne faisaient pas jouer la concurrence. Notre analyse montre que la faible mobilité des assurés résulte de la co-existence de deux marchés d'assurance maladie soumis à des règles différentes : le marché de l'assurance de base, où la sélection des risques est interdite, et celui de l'assurance supplémentaire, où elle est autorisée. Les estimations montrent que la propension à changer de caisse est beaucoup plus faible chez les détenteurs d'une assurance supplémentaire qui estiment que leur santé n'est pas excellente. Le droit de sélectionner les candidats à la souscription pour l'assurance supplémentaire nuit à la concurrence sur l'assurance de base.
Fichier principal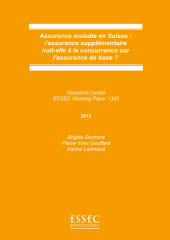 WP1303.pdf (724.81 Ko)
Télécharger le fichier
Origin : Publisher files allowed on an open archive