Money and risk aversion in a DSGE framework : a bayesian application to the euro zone
In this paper, we set up and test a model of the Euro zone, with a special emphasis on the role of money. The model follows the New Keynesian DSGE framework, money being introduced in the utility function with a non-separability assumption. By using bayesian estimation techniques, we shed light on the determinants of output and inflation, but also of the interest rate, real money balances, flexible-price output and flexible-price real money balances variances. The role of money is investigated further. We find that its impact on output depends on the degree of agents' risk aversion, increases with this degree, and becomes significant when risk aversion is high enough. The direct impact of the money variable on inflation variability is essentially minor whatever the risk aversion level, the interest rate (monetary policy) being the overwhelming explanatory factor.
Cet article présente un modèle théorique et empirique de la zone euro, en mettant en perspective le rôle de la monnaie. Le modèle s'inscrit dans le cadre " Nouveaux Keynésiens-DSGE ", la monnaie étant introduite dans la fonction d'utilité des ménages sous une forme non-séparable. En testant le modèle selon la méthode bayésienne nous expliquons la variance de la production et de l'inflation, mais aussi du taux d'intérêt, des balances réelles, de la production et des balances réelles en prix flexibles. Le rôle de la monnaie est analysé plus particulièrement. Nous montrons que son impact sur la production dépend du degré d'aversion au risque des agents, qu'il augmente avec ce degré, et qu'il devient significatif quand l'aversion au risque inter-temporel est suffisamment élevée. L'impact direct de la monnaie est en revanche très limité pour expliquer la variance de l'inflation, la politique monétaire, via le taux d'intérêt, constituant le facteur dominant.
Fichier principal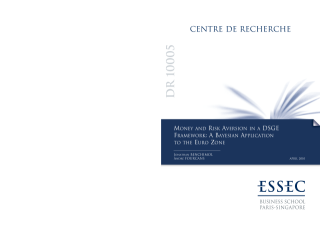 DR10005.pdf (1.64 Mo)
Télécharger le fichier
Origin : Publisher files allowed on an open archive