Money in a DSGE framework with an application to the Euro Zone
In the current New Keynesian literature, the role of monetary aggregates is generally neglected. Yet it's hard to imagine money completely "passive" to the rest of the system. By entering real money balances in a non-separable utility function, we introduce an explicit role for money via preference redefinition in a simple New Keynesian Dynamic Stochastic General Equilibrium (DSGE) model. It involves new inflation and output gap specifications where money plays a significant role. We use the General Method of Moments (GMM) to calibrate our DSGE model of the Euro area and we show that the European Central Bank –ECB) should react more strongly to economic shocks as far as the role of money is found significant.
Le «nouveau keynésianisme» actuel néglige le rôle des aggrégats monétaires dans la détermination de l¿équilibre économique. On peut se poser des questions sur cette vision tant il est difficile d¿admettre que la monnaie serait une variable «passive» du système économique. En introduisant les balances réelles dans une fonction d¿utilité non-séparable, cet article incorpore explicitement le rôle de la monnaie dans un modèle du type DSGE. Cette spécification débouche sur des équations d¿inflation et d¿output gap dans lesquelles les encaisses monétaires jouent un rôle significatif. Le modèle DSGE est calibré par la General Method of Moments (GMM) appliqué aux données de la zone Euro. Les résultats et l¿analyse démontrent que dans la mesure où la croissance monétaire joue un rôle significatif, la BCE devrait réagir plus vigoureusement aux chocs économiques qu¿elle ne le fait généralement.
Fichier principal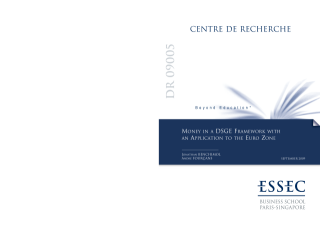 09005_FourA_ans.pdf (1.05 Mo)
Télécharger le fichier
Origin : Publisher files allowed on an open archive