Création de valeur, 10 ans après...
Value based management was considered as the major managerial innovation of the nineties: managers were to supposed to be turned into owners through redesigned compensation packages including value creation metrics such as EVA and the like, increased influence of shareholders on firms' strategies... Ten years later it is about time to come back. This article indeed revisits a study made at the time by the authors on the implementation of VBM and analyzes the evolutions observed since then. It identifies the main achievements such as the better management of assets and cost of capital, and the difficulties encountered in the alignment of managers' compensation on market value. It discusses the current trend towards more operational performance indicators in that respect.
La création de valeur a été considérée comme l'innovation managériale majeure des années 2000 : couplage des rémunérations des dirigeants sur la valeur boursière, introduction de nouveaux indicateurs de performance axés sur la performance actionnariale, influence croissante des actionnaires sur la stratégie des firmes... Dix ans après, cette démarche est-elle encore en cours ? Cet article revient sur une étude menée par les auteurs au début des années 2000 sur la mise en oeuvre de cette approche dans les entreprises qui s'étaient à l'époque les plus engagées dans cette voie. On met en évidence les principaux apports, en particulier la meilleure maîtrise des capitaux engagés, et les difficultés rencontrées, notamment du fait de la forte volatilité des cours boursiers sur la période). Un retour de balancier vers des indicateurs de performance plus opérationnels semble bien caractériser la tendance récente.
Fichier principal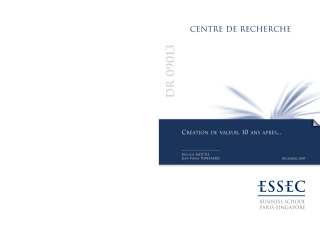 09-013.pdf (1.05 Mo)
Télécharger le fichier
Origin : Publisher files allowed on an open archive